Saudi's NQOODLET wins the inaugural "Visa Direct" award at 2022 Visa Everywhere Initiative CEMEA finals
Kingdom of Saudi Arabia, Riyadh, June 2022 – Saudi Arabia based NQOODLET was announced as one of the winners in the Visa Everywhere Initiative (VEI) regional finals held for Central and Eastern Europe, the Middle East and Africa (CEMEA) on 17 June 2022. VEI is a global innovation program and competition that helps start-ups unlock new opportunities and gives them a global platform to demonstrate their ground-breaking solutions.
NQOODLET won the inaugural 'Visa Direct' award for CEMEA and received $10,000 (38,000 SAR) in prize money. The Riyadh-based fintech was founded by CEO Mohamed Milyani with a vision to provide a digital platform to small and medium enterprises (SMEs) that want to manage their expenses, purchases, and register bills directly through corporate cards.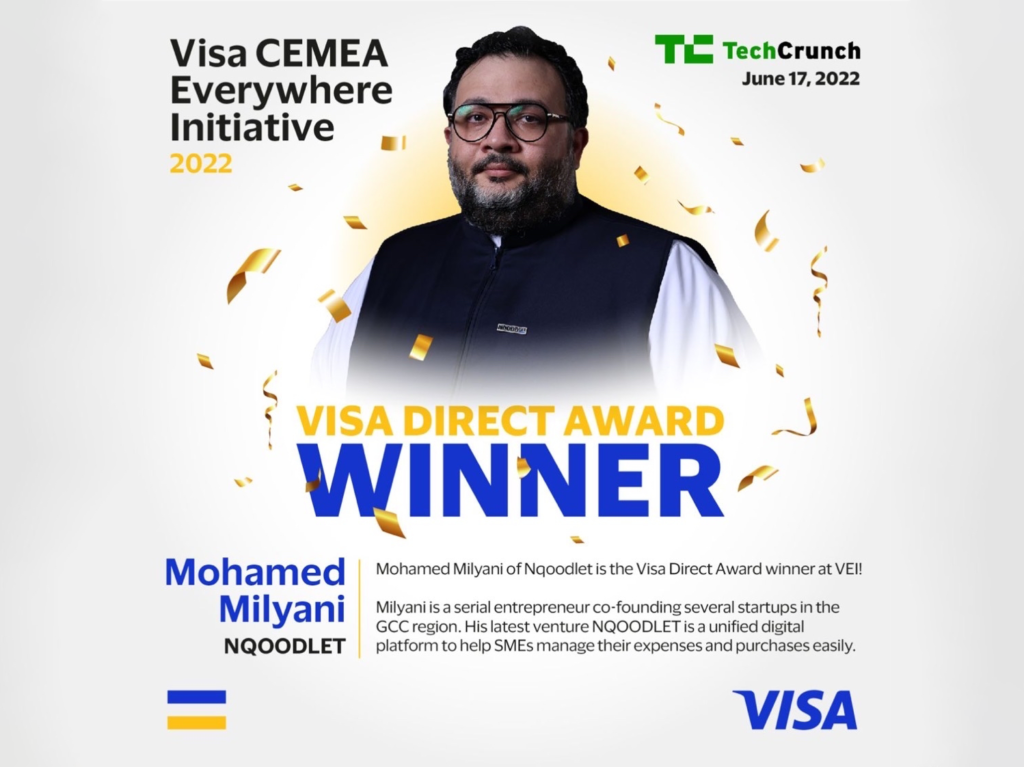 The idea to launch NQOODLET originated from a market need, where SMEs cannot obtain corporate cards quickly, and even if they do; controlling and monitoring the spending limit on corporate cards is complicated, potentially resulting in many financial reconciliation & legal issues as well as a struggle with budgeting and checking expenses.
Commenting on the win, Mohamed Milyani, founder and CEO at NQOODLET, said, "We are excited to receive the Visa Direct Award as it is a great validation of what we are trying to achieve. At NQOODLET, we know that there is a need for tech solutions that help small businesses better manage their expenses, and this reinforces our commitment to provide a digital platform to support SMEs across Saudi Arabia & GCC. We are very grateful to be part of the Visa Everywhere Initiative and hope to work closely with Visa to achieve our mission."
Ali Bailoun, Visa's General Manager for Saudi Arabia, said, "We are pleased that Saudi Arabia-based fintech company NQOODLET has won the first Visa Direct Award. It is an exceptional achievement for NQOODLET to compete at the CEMEA level alongside some of the world's most renowned startups – they did a great job representing Saudi Arabia at the event. We look forward to supporting NQOODLET in their mission and working with them to drive digital commerce here in Saudi Arabia in line with Vision 2030."
The Visa Everywhere Initiative helps fintech innovators in two ways: as a program, it plugs them into the network of startups that our product teams from all over the world access when searching for solutions; and as a competition, it gives them a forum in which to make a pitch to a panel of payments experts, win prizes and gain wider attention. The winner of CEMEA region will proceed to the Global Finale in Qatar in November 2022.
Visa (NYSE: V) is a world leader in digital payments, facilitating transactions between consumers, merchants, financial institutions and government entities across more than 200 countries and territories. Our mission is to connect the world through the most innovative, convenient, reliable and secure payments network, enabling individuals, businesses and economies to thrive. We believe that economies that include everyone everywhere, uplift everyone everywhere and see access as foundational to the future of money movement. Learn more at About Visa, visamiddleeast.com/blog and @Visamiddleeast.
Media Contact
Media Contact:
asda'a bcw, Dubai, UAE
Dhanya Issac | Danaisha Gulabani
E-mail: [email protected], [email protected] 
Tel: 971-4-450-7600 
NQOODLET is a world class unified expenses management platform for SMEs who need to manage and streamline their expenses, through a full automated process that provides instant issuance to multiple payment corporate cards for team members and smart spending solution for expenses reports and reconciliations.